Company profile
We work in textile business since 1951, operating in various fields:
haute couture fabrics
,
wedding-dress fabrics
,
sportswear
and
lingerie
clothing,
underclothing
and
pyjamas clothing
. Moreover we propose every kind of
yarns
and
fabrics
, raw and colored, cotton-made and mixed ones.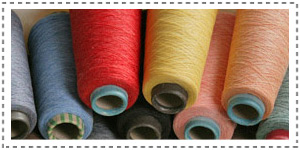 Nowadays in
Puglia
and in the
Middle-South of Italy
we represent qualified textile companies, Italian and foreign ones, with a service that exceeds the simple service. We establish with our clients a
cooperation
, a
service
and a
consulting
that holds in time. Our half Century of experience in our areas allow us to deeply know trends, requirements and habits of clients who can find in Dehò a valid and constant reference for consulting and purchases.
We keep a wide
attention to distribution
and
exclusivity of dealed products
and we know the market at each level from direct import, passing by wholesale dealer, to specialized retailer. A relation so direct and outspoken with each member of the supply-chain, that allows us to deeply catch requirements of each client. and to do our best in satisfying them.